ডিগ্রি ইংরেজি প্রশ্নপত্র Degree Question English এই পোস্টে পেয়ে যাবেন অরিজিনাল প্রশ্নপত্রসহ। এই ওয়েবসাইটে বিগত সালের প্রশ্ন দেয়া হবে নিয়মিত। এতে আপনারা পরীক্ষার আগে ধারণা পাবেন যে আগের পরীক্ষার প্রশ্নপত্রের ধরণ কেমন ছিল।
ডিগ্রি ইংরেজি প্রশ্নপত্র Degree Question English
DEGREE PASS AND CERTIFICATE COURSE THIRD YEAR EXAMINATION, 2019
ENGLISH (COMPULSORY) [According to the Syllabus of 2013-14)
Subject Code: 121101
Time-3 hours 30 minutes
Full marks-80
(N. B. The figures in the right margin indicate full marks.)
Part-A
Read the following passage carefully and answer the questions below:
Of all the amusements which can possibly be imagined for a hard working man, after his daily toils, there is nothing like an entertaining book. It relieves his dullness. It takes him to a lovelier and more interesting scene; while he enjoys himself there, he may forget the evils of the present moment.
Nay it accompanies him to his day's work, and gives him something to think, besides the drudgery of his everyday occupation. were to pray for a taste which should stand me in good stead under every variety of circumstances and be a sources of happiness and cheerfulness through life, it would be a taste for reading.
Give a man this taste and the means of gratifying it, and you can hardly fail of making him a happy man, unless, indeed you put into his hands most perverse selection of books. You place him in contact with the best society in every period of history, with the wisest, the tenderest, the bravest, and the purest characters which have adorned humanity.
(a) Answer the questions below:                                                                                  Marks 1×4=4
         (i) What is the best amusement for a hard working man and why is it so?
        (ii) How does it help him even in his work?
       (iii) What is the best taste to cultivate?
       (iv) How does this taste benefit man?
     (b) Write down the meaning of the following words in English                                    Marks 1×6=6
         and make your own sentences with the basic words:
        amusement: relieve; dullness; drudgery; gratify; contact.
Part B
(Answer any five questions)
Marks- 4×5=20
3. Change the following words as directed and make sentences with the changed words:
employ (noun); consider (adjective); introduction (verb); favour (adverb).
Supply a suitable word to fill in the blank in each of the following sentences :
(a) If you read the…………. leaflet, everything should become clear.
(b) It is………… to say but difficult to do.
(c) The switchboard is…………… out of order, but it'll be soon fixed.
(d) The cost of…………. has gone up again.
4. Use the right form of verbs within brackets :
(a) One of the pens (be) black.
(b) My father (go) to Dhaka yesterday.
(c) My pen is (lose)
(d) We (be) going there tomorrow.
5. Write down the antonyms of the following words and make sentences with those antonyms :
accept; care; fertile; oppose.
6. Frame Wh-questions from the following sentences :
(a) I know the man from Japan
(b) Something happened last Sunday
(c) Mariam went to school on foot yesterday
(d) My mother is a school teacher
7. Re-arrange the following words to make sentences :
(a) holds bottle water lot a this of.
(b) loves a patriot country much very his.
(c) on books printed paper are.
(d) you as shall so reap you sow.
8. Punctuate the following passage
People who have too many books often find they haven't any time to read them. In the same way people with too many friends cannot find enough time to cultivate friendship with all of them.
9. Translate the following passage into English:
বই পড়া একটি ভালাে অভ্যাস। জানতে চাইলে পড়তে হবে। অনেকে বই পড়ে না। বই পড়ার আনন্দ হতে তারা বঞ্চিত।
Part C
(Answer any five questions)
Marks 10×5=50
আরও পড়ুনঃ বিগত সালের সকল প্রশ্ন
10. Write a paragraph on any one of the following:
        (a) Friendship
        (b) Patriotism
11. Write a report on your visit to a place of Historical Interest.
12. Write a letter to your younger brother advising him to attend classes regularly.
13. Suppose there is no literary club in your college for want of which the students cannot develop their literary faculty properly.
Now write an application to your principal seeking permission to organize a literary club.
14. Write an essay on any of the following:
     (a) Rivers of Bangladesh
     (b) Digital Bangladesh
15. Amplify the idea (any one):
     (a) Every cloud has a silver lining
     (b) A friend in need is a friends indeed
16. Write a dialogue between you and your friend about your future plan after graduation.
17. (a) Write a poster to make people aware so that they can prevent the spread of covid-19 pandemic.
Or.
 (b) Write an advertisement to sell a piece of land.
ডিগ্রি ৩য় বর্ষের ইংরেজি প্রশ্ন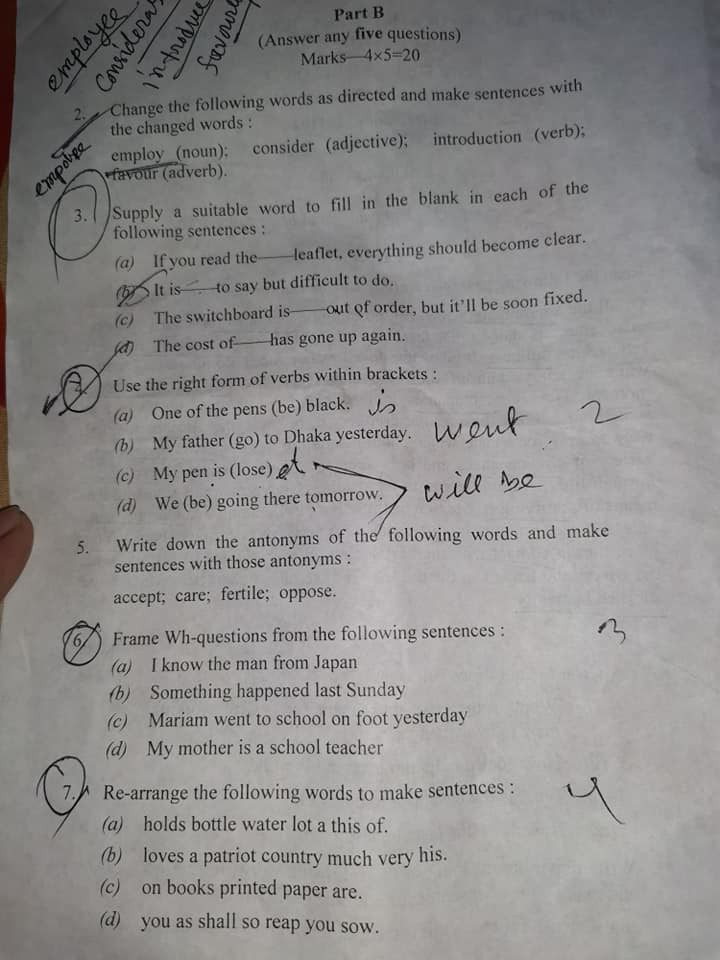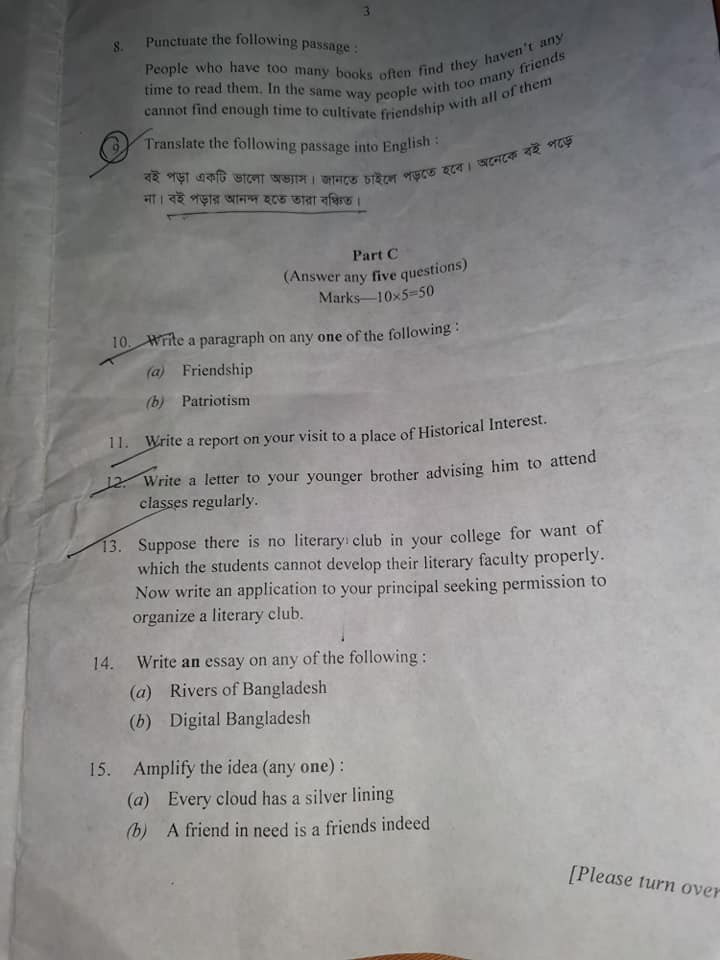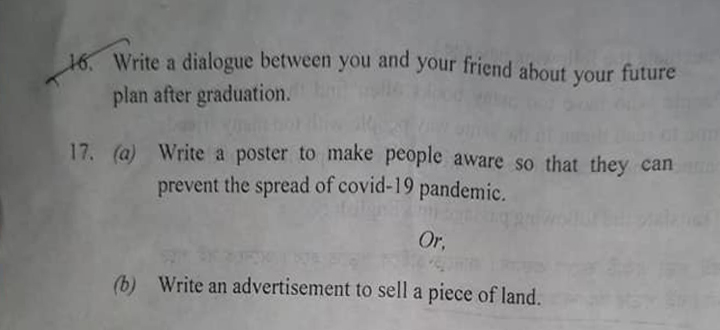 জাতীয় বিশ্ববিদ্যালয়ের অফিসিয়াল ওয়েবসাইটঃ https://www.nu.ac.bd/